1-phase process through which an approximate 70% higher COP is achieved than for conventional heat pumps

this results in high cost-effectiveness

higher achievable temperatures of up to 150 °C

broad area of application from -20 °C to 150 °C with one and the same machine and one working medium (adaptation by controlling the rotation speed)

flow rate and transferrable heating capacity can be regulated independently. That way, fluctuating temperatures in the source and sink can be processed (e.g. summer and winter operation)

environmentally friendly and non-combustible working material (no negative greenhouse effect, no special safety precautions)

The compression and expansion of the working medium is flexible and requires no lubrication, and all maintenance parts are rotating, standard, industrial parts which means the maintenance effort is low.

The ecop rotation heat pump can be used simultaneously in one machine to generate heat and cold, and it also serves as a flywheel accumulator
| | Conventional heat pump | Rotation Heat Pump K7 |
| --- | --- | --- |
| Efficiency / COP (dependent on the exact integration) | 2,9 | 5,2 |
| Temperature range, source (input) | -20°C till +30°C | -20°C till +110°C |
| Temperature range, sink (output) | 0°C till +80°C | 0°C till +150°C |
| Maximum temperature rise | 60°C | 80°C |
| Flexible temperature range with one machine | no | yes |
| Different applications possible (conversion) | no | yes |
| Summer and winter operation | no | yes |
| Tools | Often harmful to the environment / toxic / flammable | neutral |
| Maintenance effort | medium | low |
| Installation effort | high | low |
| Purchase costs | low | medium |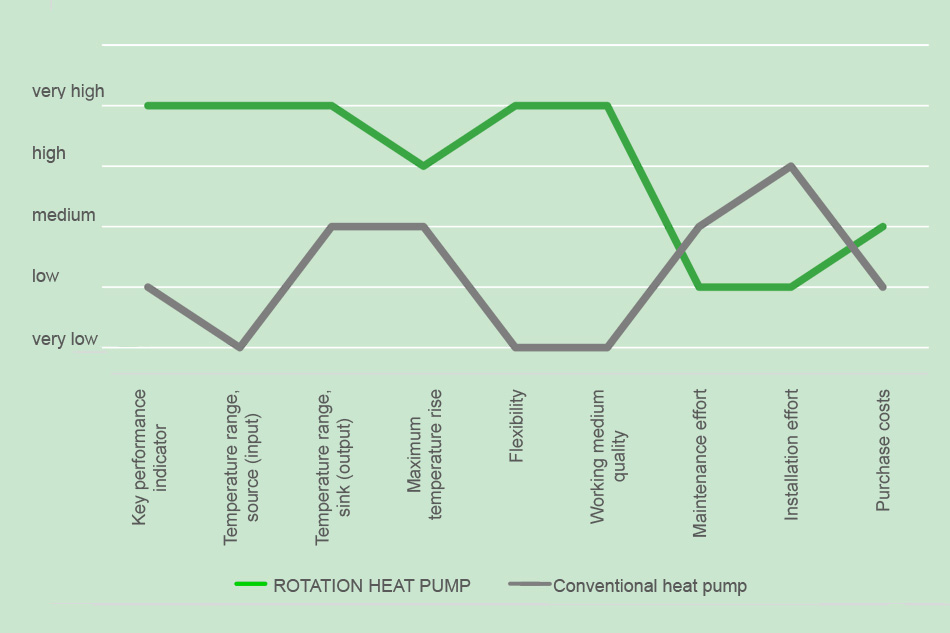 The ecop process is a thermodynamic cyclic process. However, instead of the Carnot process in the 2-phase sector, the innovative heat pump technology is based on an anticlockwise running Joule process in which there is no phase transition of the working medium. It always remains gaseous. That way efficiency of more than 99% can be achieved.
The working gas of the rotation heat pump circulates in a closed cycle, which rotates around an axis. If heat exchangers are now positioned closer and farther away from the axis of rotation and connected to lines, a thermodynamic cyclic process is established. Since during rotation the centrifugal force increases with increasing distance from the axis of rotation, the working gas is also compressed more and more strongly by the centrifugal force. To operate the cycle, the working gas must circulate in the closed cycle by means of a fan. Due to the pressure increase in the off-axis areas, the temperature of the working gas increases, which releases heat into a sink via a heat exchanger. When the gas that is cooled that way expands again, its temperature changes to a lower level due to the flow against the centrifugal force and can thereby take up heat again at the source via the heat exchanger close to the axis.

The speed of rotation is up to 1800 rpm.
Depending on the speed of rotation, there is a different pressure ratio between the outer and inner zone. That way, the compression and expansion pressure ratio can be changed. This results in a freely definable temperature difference between the low-pressure side (source) and high-pressure side (sink), which can be regulated via the rotational speed. Through the rotational speed of the fan, the flow rate and hence the transferrable heating capacity are regulated independently of the temperature increase. Hence, this technology facilitates maximum flexibility.
Exemplary illustration of the Joule process that is used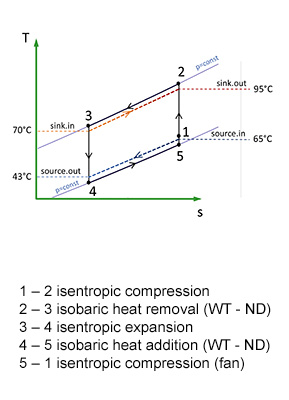 The technology that is used has several international patents.
The technology or rather its use is examined in more detail in the following publications:
FORUM Gas, Wasser, Wärme, February 2017
Forum Gas, Wärme, Wasser – Ausgabe 1_2018
12th Heat Pump Conference Rotterdam, May 2017
Presentation ecop Technologies GmbH
Paper
12. CADFEM ANSYS SIMULATION CONFERENCE AUSTRIA – Die Fachkonferenz zur Numerischen Simulation in der Produktentwicklung, April 2017
Presentation "Simulationen der ecop ROTATION HEAT PUMP"
Holzkurier – 08/17, February 2017
"Rotierende Wärmepumpe", Site 22
Publisher site
2. Praxis- und Wissensforum Fernwärme & Fernkälte, November 2016
Presentation "Die ecop Rotationswärmepumpe für Fernwärmeanwendungen"
Umweltschutz der Wirtschaft Spezial – No S/16
"Rotierende Wärmepumpe: Recycling auf die Spitze getrieben", Site 35 – 36
Highlights of the energy research 2016: The role of the rotation heat pump in future energy systems
Presentation & Video from Bernhard Adler
Konferenz EnergieInnovation Graz, March 2016
ecop Rotationswärmepumpe auf Basis eines Joule Prozesses
FFG Forschungserfolg – 2016
Wärmepumpen einmal anders
BBR – Leitungsbau, Brunnenbau, Geothermie –  07/08 2015
"Erweiterung der Fernwärmekapazität von Tiefengeothermie durch innovative Edelgas-Industriewärmepumpen", Pages 58 – 63
Euro Heat & Power – June 2015
"Innovative Wärmepumpe erzeugt bis -100°C Kälte und bis 200°C Wärme", Pages 28 – 33
Factory – June 2015
"Gegen den Strom" Pages 10 – 13
VDI Forum: heat pump lever / large heat pumps – projects , experiences and perspectives – April 2015
Presentation ecop rotation heat pump from Bernhard Adler
CITplus – Das Praxismagazin für Verfahrens- und Chemieingenieure – März 2015
"Wenn sich das Gas im Kreise dreht – Kälteerzeugung & Wärmerecycling im Einklang mit der F-Gase Verordnung", Pages 41–43
Heat Pump Conference Montreal May 2014
Heat Pump for Process Industry
Wochenblatt für Papierfabrikation – Januar 2014
"Wärmerecycling durch Industriewärmepumpen", Pages 18 – 21
Process – Chemie, Pharma, Verfahrenstechnik – März 2013
"Mit weniger Energie mehr Wärme – Hochtemperaturwärmepumpe für den Einsatz in der Prozesstechnik", Pages 78 – 79
International Heat Pump Conference July 2011 Tokyo / Japan
Centrifugal Compression Turbo Heat Pump Made by ecop