GENERATE PROCESS HEAT DIRECTLY UP TO 150°C
Generate valuable heat from unused waste heat
To replace fossil fuels in heat generation
When heat and cold are to be produced in the same process
When there are different operating points within an application
When waste heat is available as a source
To use temperatures up to 150°C directly in industrial processes
To amplify heat and bring it to a higher level
The industries for which this is relevant are many, e.g. paper and textile industries, chemicals, metal processing, food and beverage manufacturers and local and district heating operators. In addition to heating and cooling buildings, processes that require heat in the 100°C-150°C range are of particular interest, such as distillation, steam generation, pasteurization, washing, cooking, and drying.
COST ADVANTAGES
The cost advantages of the Rotation Heat Pump come mainly from its efficiency, low investment costs (purchase, installation) and low operating costs. In the installation, lower cross-sections can be used in the piping between the system and the source or sink. The principle of rotation is much more gentle on materials and mainly proven standard industrial components can be used.
Due to current energy prices, a return on investment of less than two years is possible for most applications, if heat production with gas is used as a comparison. The typically very high COP even at different temperatures, the easy integration, the cheap maintenance, the possibility of subsidies and last but not least the savings in CO2 pricing contribute to attractive payback times.
Industrial drying and cooling processes

Drying processes are used in many industries (e.g. tile manufacturing, the food industry, paper industry). Here, the ambient air can be used with the help of the rotation heat pump to raise the air temperature for industrial drying and simultaneously cool ambient air for another process step. Naturally, waste heat from other processes can be used just as well.
Drying often requires different temperatures throughout the process. The RHP can continuously adjust the temperature electronically controlled.
Exemplary characteristic numbers for industrial drying processes
| | |
| --- | --- |
| Sink in (°C) (ambient air) | 10-35 |
| Sink out (°C) (air for drying process) | 40-60 |
| Source in (°C) (ambient air) | 10-35 |
| Source out (°C) (air for cooling in the process) | 0-5 |
| COP (dependent on the exact temperature combinations) | 3,50-7,00 |
High-temperature application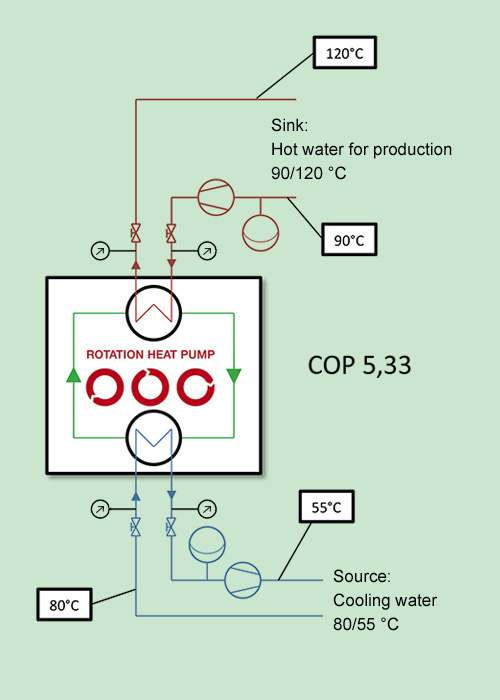 Exemplary characteristic numbers for a high-temperature application
| | |
| --- | --- |
| Sink in (°C) (hot water from production – return) | 90 |
| Sink out (°C) hot water for production – supply) | 120 |
| Source in (°C) (cooling water – return) | 80 |
| Source out(°C) (cooling water – supply) | 55 |
| COP | 5,33 |
Local and district heating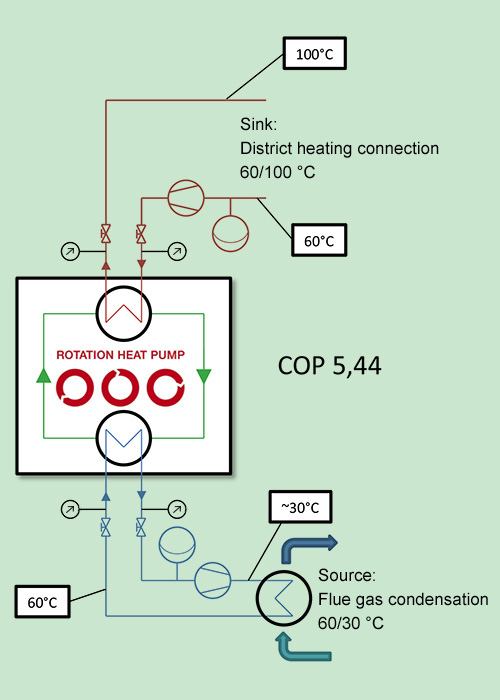 In heat generation, waste heat from combustion processes – for example at a very low temperature level like from a flue gas condenser – can be raised to a directly useable level – for example to raise the district heating return to the district heating supply.
Here, the integration is typically quite easy, because there is already a water circuit that can be used either directly or integrated via heat exchangers.
For this type of application, a COP that is up to 100% higher compared to conventional heat pumps can be expected.
Plant at Bioenergie Bucklige Welt (Austria)
"Bioenergie Bucklige Welt GmbH", located in Schwarzau (Austria), put a ROTATION HEAT PUMP K7 into operation in 2020. Bioenergie Bucklige Welt operates a biomass cogeneration plant. It produces 16 mio kWH electrical energy and 33.000 MWh of heat per year. It supplies private and public buildings in the region (e.g. the Linsberg spa) with heat. Because of increasing demand an expansion of the capacity was planned. There was unused waste heat that had no constant temperature, so the ROTATION HEAT PUMP came into play.
We instantly understood the advantages of this completely new technology und did not hesitate to act as a pioneer. Apart from the technical fascination there were substantial economic reasons for this decision. Furthermore, the ecological aspect is very important for us.
Integration
There were about 20 possibilities for integration. Each of them was calculated and the most efficient was chosen. The heat pump uses as source heat from the condenser of the steam turbine und increases the return flow temperature of the district heating system. Thus less energy is required to reach the necessary maximum flow temperature. The steam from the turbine so far was cooled with fans und heat was given off to the environment.
Flexibility
The high flexibility of the ROTATION HEAT PUMP is fully used because temperatures differ between summer and winter (source winter: 42° Celsius, source summer: 60°).
Conventional heat pumps can only be optimized for one operating point, RHP can efficiently deal with different temperatures with only one plant (adoptions are made with rotation speed).