Photo: Province of Upper Austria / Krenn
Ferreira with delegation, Christian Matzinger (Upper Austrian HightechFonds), Petra Baumgartner (Mayor of Neuhofen an der Krems) and Deputy Governor of Upper Austria Christina Haberlander in conversation with Bernhard Adler.
Elisa Ferreira, EU Commissioner for Cohesion and Reforms and Deputy Governor of Upper Austria Christine Haberlander visited our site in Neuhofen an der Krems on 19.10.2022.
CEO Bernhard Adler presented the ecop technology, which allows industrial companies to recycle waste heat. This was followed by a tour of one of our Rotation Heat Pumps. EU Commissioner Ferreira sought dialogue and there was an intensive exchange on ecop and on the topic of decarbonization of industry. She was impressed by the innovative power of the technology and highlighted the particular importance of technologies that reduce dependence on fossil fuels.
She then tweeted, "Rotation heat pumps are developed by ECOP Technologies in Upper Austria to help companies recover energy, protect the environment & save costs. It is a great example of the value-added of #CohesionPolicy support to young, high-tech, innovative projects w/ high growth potential."
Deputy Governor Christine Haberlander and the Mayor of Neuhofen an der Krems, Petra Baumgartner, were also on site and expressed their strong interest and enthusiasm for innovativeness with many questions and in conversation with Bernhard Adler and other employees. The Upper Austrian HightechFonds was represented by Christian Matzinger and Thomas Meneder.
ecop has a strong connection to the EU. Already in 2012, the OÖ HightechFonds invested – it is funded by the EU and the state of Upper Austria. In 2019, we received funding under the Horizon 2020 program. In June 2022, Europe's largest clean tech investor, InnoEnergy, participated in ecop. And most recently, ecop received the Innovators Award in Gold from the European Institute of Innovation and Technology (EIT).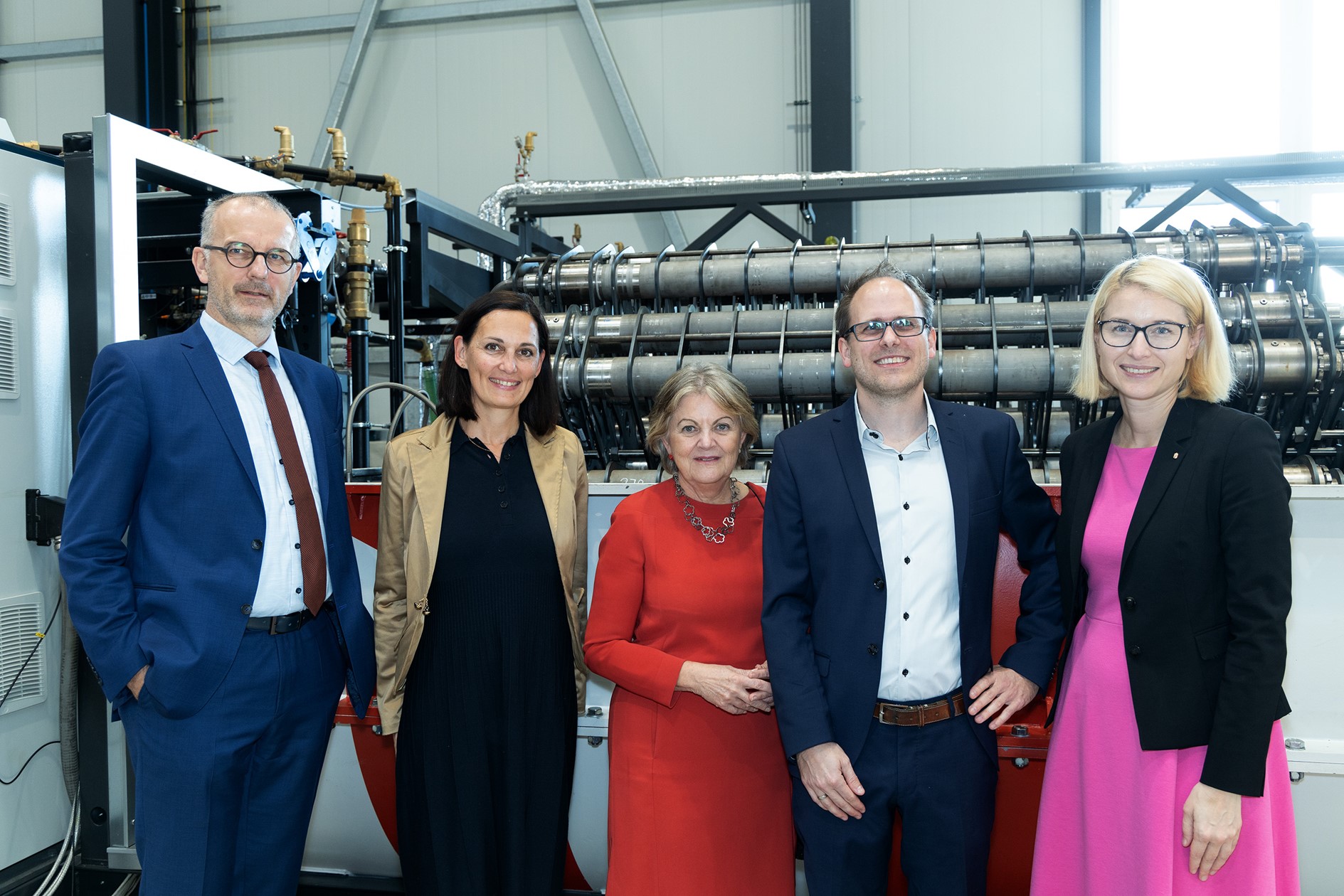 Photo: Province of Upper Austria / Krenn
Christian Matzinger, Petra Baumgartner, Elisa Ferreira, Bernhard Adler, Christine Haberlander.